The Komori Corporation was founded in 1923 in Tokyo, Japan. A new phenomenon called offset lithography was revolutionising the world of print, and rather than manufacturing the more popular letterpress, this is the market the Company decided to focus its attention on.
The family run Company's early designs were in effect duplicates of American and English machines, with the first lithograph printing press being rolled out in 1925. The three decades that followed were rather uneventful; Japan's military action in Manchuria, followed by World War II, meant that the country fell behind technological advances made in America and Europe.
---
Emerging as a market leader
Today, Japanese manufacturing is highly sought after - from cars to electronics, consumers cite reliability, durability and competitive pricing as the main reasons why. The 1950s gave Komori its first chance to start exporting its expertise and try to compete with German market leaders. In 1952, the Company had developed an automatic feed offset press, using the American Dexter feeder, and by 1956, one of its very first presses, a model KW-2 with a sheet size of 26 x 39 inches, was exported to Canada. A Year later, Komori Currency was formed, using a range of Intaglio Simultan-like presses, and they have been entrusted with printing Japan's currency ever since.
1957 saw the creation of their first four-colour offset press, the UM-4C, swiftly followed by the five-colour in 1961 and the six-colour in 1963. This allowed full colour images to be produced on a commercial level, helping with the circulation of magazines, books, brochures, and any Other items containing full colour images.
However, it wasn't until the 1980s that Komori were able to reproduce their domestic success on a global scale. In 1981, Komori built a press that would put them on the map - the Lithrone. Taking inspiration from German Company Planeta, Komori recognised the benefits of the double-size impression and transfer cylinders on the Variant press platform they had created, and they essentially re-engineered every part of the Planeta design principles. They drove a series of innovations, starting with the Lithrone, encompassing Factory builds, metals, and inkjet system transports and partnerships, to create a press that remains today. And it was efficient. Printing at speeds of 13,000iph, the Lithrone eclipsed competitors Roland and Heidelberg by 3000iph!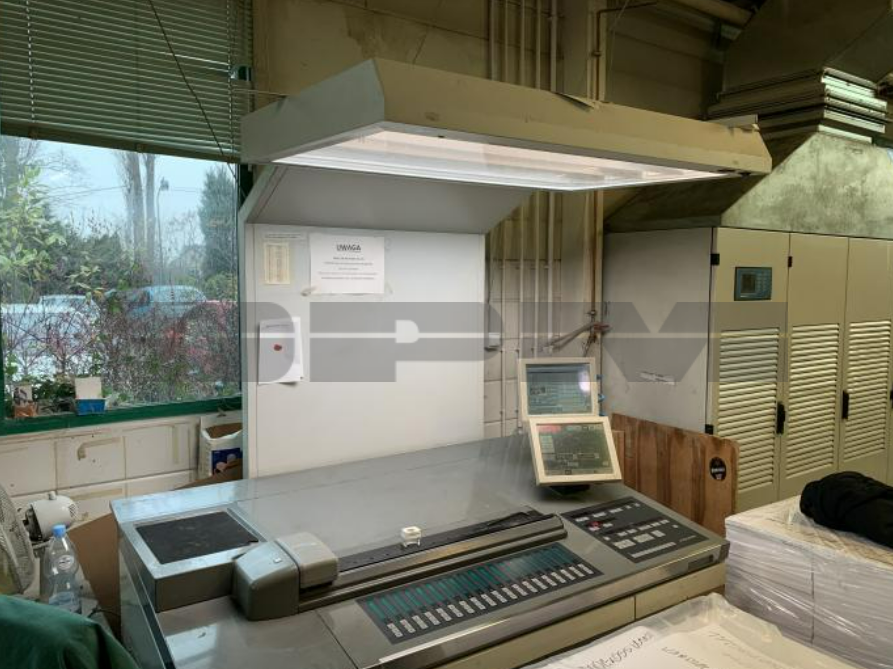 Modern day standing
As Komori's reputation grew, so did its reach and the accolades they received. The Company now has a presence in various countries across South East Asia, as well as the UK, France, Netherlands and India. The groundbreaking H-UV development, which Features just one UV lamp mounted in the delivery, was honoured by the Japanese Society of Printing Science and Technology in 2011. The H-UV system is thought to have exceeded over 1000 installations globally in 2019 alone.
Known for their willingness to embrace innovation, Komori successfully developed their first-ever digital printing press in 2016. The Impremia IS29 was awarded the Printing Industries of America's InterTech Technology Award the following Year. It produced litho quality print and it could handle any type of substrate in thicknesses of 0.06–0.6mm single-sided and 0.06–0.45mm double-sided, unlike rival sheetfed inkjet digital offerings. It also featured instant drying, double-sided one-pass printing and the ability to immediately start post-press processes.
DPM: proud Komori supplier
At DPM, we are proud to buy and supply used, second hand and refurbished Komori press printing machines. Our in-house team of engineers provide a comprehensive service when it comes to repairing, refurbishing and installing all Komori machines to ensure they perform at their optimum level. We're especially honoured to stock the Komori Lithrone range, which Features unique Komorimatic dampening, SAPC semi-automatic plate changing, and intelligent print quality controls.
If you'd like more information on the Komori range we stock and insight on how DPM can assist you, please email dpmwebenquirires@dpm.uk.com or Contact Us on 01959 569900.