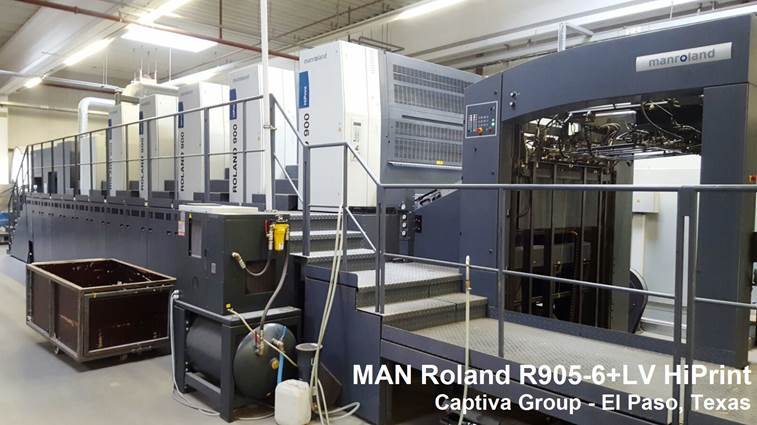 Anthony Fernandez, President of Albuquerque-based Captiva Group made contact with DPM in Late-2016. Having spent quite some time scouring the market for the right press, it was clear that Anthony knew what he Wanted, and that our machine fitted Captiva's requirements perfectly.

The multi-plant Company has manufacturing facilities in Albuquerque, New Mexico and El Paso, Texas with a sales office in Kansas City, Missouri. Captiva needed a 56-inch press (142cm) for their El Paso plant.

It was important for them to have a young press, with low Impressions, and all the automation of a late-model press. DPM had recently bought a young MAN Roland 905-6+LV HiPrint. The press came from a large German print group, and came with the highest levels of automation.

The real bonus with this press was the Inline ColorPilot, automatic colour-management is a rare find on the larger presses, and the benefits are tangible. Make-Ready times are demonstrably reduced, and colour consistency is of the highest level.

When supplying equipment of this size and value over such a long distance, no two deals are the same. At DPM we pride ourselves on a flexible approach to business, and this deal was no exception.

We spent a lot of time talking with Anthony; explaining how the deal might work, and understanding his needs and concerns to make sure Captiva were comfortable with DPM, and the way the deal was structured.

Once precise terms were agreed, DPM started stripping the press immediately. Once the press had arrived in Texas, the same team of DPM technicians flew out to offload and install the press.