If you are looking for high-performance printing that can be done at lower costs and with excellent productivity, the RMGT Series 9 printing machines have the specifications and Features you need.
---

These SRA1 presses are available in two model Types which include the 940 models that come with a maximum sheet width of 940mm, and the 920 models that possess a sheet width of 920mm. With 8 up capabilities on A4s that were previously only available in B1 presses, this represents a significant saving in your up-front costs.
The RMGT 940 and 920 series were designed for versatility, excellent print quality, speed and accuracy.
What Features does it include?
With a printing speed of 16,200 sheets per hour, this printing machinery is fantastic for printing at volume, to a high quality and for a price that does not break the bank.
Launched in 2008, this series is now one of the biggest sellers for RMGT across the world.
Its power requirements are also significantly reduced compared to a B1 press. You can save up to 40% on your power bills through the 920 series press thanks to shorter makeready times as well as efficient and automated plate changing.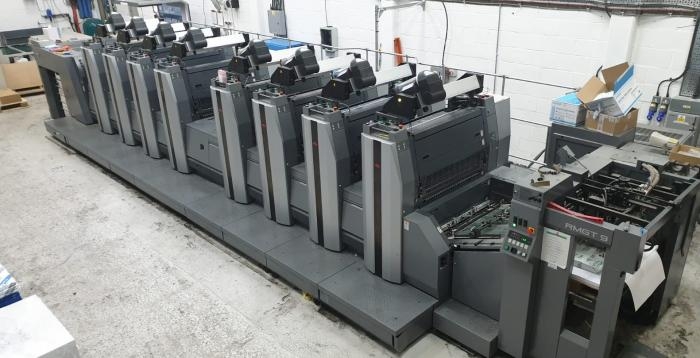 Its feeder offers greater sheet control throughout the range up to a stock thickness of 0.6mm.
Only two suction tapes are required to control the feed and a Perfecting unit can be added to any unit of up to 10 Colours. Inline coating is also water-based or UV-based and is available for any unit.
Colour control is always accurate because of LED-UV instant curing which improves efficiency, reduces power consumption and eliminates film warping. Low heat LED-UV curing units enables high quality printing on heat sensitive materials, with cooling times eliminated from the process, faster startup times and improved efficiency as the unit can be switched on and off instantly.
Why choose DPM?
At DPM, we source, supply and install the RMGT Series 9 printing machines for businesses across the UK and indeed the globe.
With more than 20 years of expertise to pass on, our rigorous inspection tests ensure that you will receive the highest standard possible.
Even throughout the coronavirus pandemic, we have provided first-rate service thanks to our ability to embrace technology and put our customers first.
If you would like to work with DPM or if you want to find out more About the RMGT Series 9, you can email dpmwebenquiries@dpm.uk.com or call 01959 569900.