There is no doubt that Manroland are among the leading names when it comes to manufacturing sheetfed offset printing presses. First formed in 1871, Manroland is a recognisable Name across the globe, producing high standards of printing machinery in commercial, publishing and packaging industries.
---

Germany is renowned for its precision engineering so it should come as no surprise that Manroland began there.
Louis Faber and Adolf Schleicher formed Faber & Schleicher to produce automatic lithographic presses. In 1875, the 'Albatros' was produced, which was capable of producing up to 700 sheets an hour.
This experience and knowledge gained allowed the Company to gain a real breakthrough in the early 20th century.
The sheetfed offset press is born
It was 1911 when the first Roland sheetfed offset press was created. It was awarded a gold medal at the World Fair in Turin and the Name 'Roland' was chosen because Faber & Schleicher was deemed as a Name that would be difficult to pronounce in English-speaking countries.
In 1922 came the introduction of the single-colour Klein-Roland 00, which could print up to 5,000 sheets per hour.
The Company continued to grow its product base through innovative and industry-disrupting printing technological advancements. By 1951, the four-colour sheetfed offset press known as 'The Ultra' was introduced. Nearly a decade later, around three-quarters of all German newspapers were being produced at the Company's Factory in Augsburg - an era when newspapers were at their most popular.
Introducing the Roland
In 1972, the Roland 800 was the first sheetfed offset press to be introduced with integrated colour control systems and speeds of up to 10,000 sheets per hour.
The Company continued with its technological landmarks through a revolutionary digitalised control concept through the Roland 700 in 1990.
Over the course of the next 15 years, the Roland 900 Large Format offset sheetfed press set new standards in economy and speed, the Roland 500 produced up to 18,000 sheets per hour and XXL launched with Format 7, 7B, 7B Plus and Format 8 capabilities.
Ultima configurations allowed highly specialised customer applications to fit bespoke needs and Direct Drive brought very quick make-ready times throughout this period as well.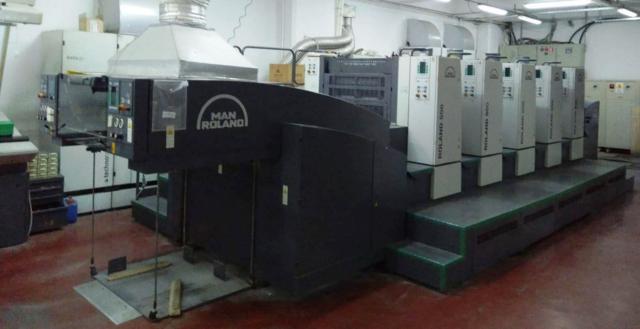 Langley Holdings takes over
The Company was purchased by Langley Holdings in 2012, two years after the largest sheetfed Perfecting press was ever produced in the shape of the Roland 900 XXL.
They remain in rude health, winning the Red Dot Award for Product Design in 2015 thanks to the revolutionary Roland 700 Evolution.
Its more recent new presses include the Roland 700 Evolution Elite, the Roland 700 Evolution Speed, the Roland 700 Evolution Lite and the Roland 900 Evolution.
In June 2021, orders surged to a 10-Year high for Manroland, with production now ramping up from their Offenbach Factory to prove that the Company is performing just as well in 2021 as it did when it was first formed 150 years ago.
DPM - used Manroland printing press experts
DPM and our expert engineers have over 20 years' experience in transporting, inspecting and installing second hand Manroland printing presses across the world. We enjoy a brilliant reputation thanks to our hard-working staff, who hold the highest of standards to ensure our customers benefit from the highest spec printing press possible.
We supply machinery as is or with a full refurbishment service depending on your specific requirements.
For more information on the used Manroland printing press, including how DPM can help you, email dpmwebenquirires@dpm.uk.com or Contact Us on 01959 569900.